Home / Products / Aluminum LED Strip Housing
Aluminum LED Channels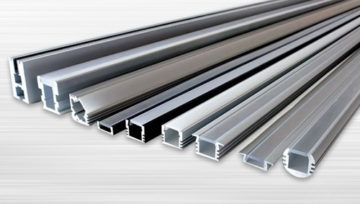 LED strip channels made from aluminum profiles are also called aluminum LED housings or LED covers, they are utilized for encasing and protecting light fittings from any form of damage. Aluminum LED strip housing is also suitable for controlling the intensity and reflectivity of LED strip lights. They create a premium and elegant look within any indoor space. Light strips require protection from dirt, dust and physical damage. Encasing LED strip lights with aluminum housing is a sure shot way of protecting the light components.
As a leading LED strip housing manufacturer, we specialize in making standard as well as custom-design product variants for our clients. We supply high-quality aluminum alloy housing options for businesses and retailers on a worldwide level. The range of sturdy framing options we offer can adequately serve all your LED strip lighting protection requirements. Our advanced infrastructure facilitates swift and hassle-free custom alloy housing manufacturing that meets and exceeds the expectations of clients.
We offer our clients only the highest quality of LED light channel and custom profile solutions. LED strip light housing options are designed by us with the most lightweight and durable handpicked aluminum alloy materials. We can create the perfect aluminum strip housing variants, matching every single detail and specification mentioned by you. Every step of the design, manufacturing and custom molding process is performed with guidance to globally recognized quality standards.
There are many advantages of using aluminum LED channels
LED strip light channels made from aluminum are quite lightweight in nature.
They offer a great level of protection to LED aluminum profile strip lighting fittings.
Aluminum used for light channel extrusions has a better strength to weight ratio than stainless steel.
Aluminum LED light channels are quite resistant to cold temperatures and thus suitable for industrial lighting.
LED strip housing constructed with aluminum has a high ability to resist corrosion.
Aluminum LED housings have excellent light reflectivity and create a sleek appearance.
Reliable and Time-Efficient Aluminum LED Strip Housing Manufacturing
Meeting the timeline and cost-efficiency demands of clients is an area we excel in. Our company is reputed as a service provider capable of meeting voluminous manufacturing demands while adhering to all expected quality standards. We are able to make and supply aluminum LED strip housing at very competitive rates for our global customer base. The products catered by us ensure superior protection of lighting elements, while exhibiting a finely tuned appearance. Our manufacturing ingenuity extends to powder coated, anodized and colored finishes based on your preferences.
If you are a business owner or wholesaler who intends to purchase premium-quality LED light channel and housing, rely on our proven expertise. We can meet your exact demands with each and every order. We are an ISO certified aluminum profiles manufacturer with a strong reputation in the aluminum products sphere.
Get in touch with us and address your requirements for standardized or custom LED aluminum profile manufacturing. Our commitment to quality and customer satisfaction is second to none.
Use our manufacturing services for your project, get in touch today!
Send us an email at [email protected] or fill in the RFQ form to get a quote from us, we will get back to you in 24 hours!