Home / Products / Extruded Aluminum Motor Housing
Extruded Aluminum Motor Housing (Motor Shell, Motor Enclosure)

An extruded aluminum motor housing, shell or enclosure is an extruded aluminum shell used in a variety of motors. As a lightweight, good elasticity, easy processing, better surface finish and cost effective material, aluminum extruded motor housing is replacing casting motor enclosure to a certain extent. We are capable of extruding motor housing with circle size up to 500mm and completing all the additional machining. If you are in need of custom aluminum motor housing, get in touch with us with your requirements. Our engineers and product developers will assist you to build and manufacture the ideal shell for your motor products.
Main Applications of Extruded Aluminum Enclosure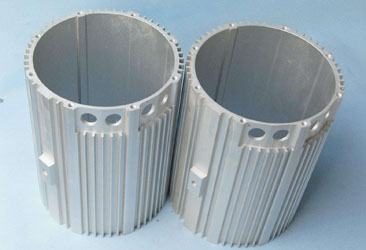 The main applications of aluminum motor enclosures are in starting motors, generators and micro motors. It is also widely used in other applications like Water cooled air conditioning motors, air compressor motors, electric motors, cooling tower machines, gear motors, electric power tool motors, negative pressure blowers, environmental air conditioner motors, micromotors, and electro-tricycle motors. With the help of appropriate extruded aluminum housing, these machines and electrical systems are able to achieve maximum efficiency and less energy loss.
Peak performance and reduction of mechanical hassles can be successfully achieved by using this housing type. Industries that take advantage of our aluminum motor housing solutions include automobiles, electronics, precision machinery, industrial control, automation, smart CARDS, communications, sensors, industrial control, electronics, and instruments.
Extruded Motor Housing Performs Better Than Casting Materials
Industrial-grade aluminum alloy is the material used to create extruded aluminum motor housings. It is preferred due to its strenuous resistance to corrosive forces, and adequate material density. Aluminum alloy enclosures are also less porous and prevent any sort of damage due to surface coarseness. It also ensures a remarkably low level of noise during operation. Aluminum motor housings are lightweight, have high tensile strength, and are sturdy options for protecting internal machine parts and components. They are rigorously tested and perfected to provide substantial heat distribution and superior thermal conductivity. In addition, they also have more polished and sleek appearances compared to cast aluminum. Our professionals craft a diverse variety of aluminum extruded motor shells for a multitude of industrial uses.
Use our manufacturing services for your project, get in touch today!
Send us an email at [email protected] or fill in the RFQ form to get a quote from us, we will get back to you in 24 hours!