Home / Products / Aluminum Solar Panel Frame
Aluminum Solar Panel Frame

The aluminum solar panel frames protect the solar panels from weather-related and physical damage in the completed solar panel mounting system. The aluminum frames envelop the sides and corners of glass solar panels, supporting the layers beneath the glass and enables the effortless mounting of panels.
As a dedicated and powerful manufacturer of aluminum extrusions, we produce high quality solar panel frames at affordable price. Contact us today and request a quote for your needs of aluminum frames.
Why we need to use aluminum frames in the solar panel mounting system?
Harnessing solar energy is an intelligent and environment-friendly decision for millions of homes and business places around the globe. Yet, just installing an array of frames is not ideal. One needs to ensure that the panels enjoy adequate security, from both natural and man-made damage. While panels can be used without frames, leaving them unprotected can lead to considerable damage. Aluminum extrusion frames extend panel battery lives and bring about a world of other benefits.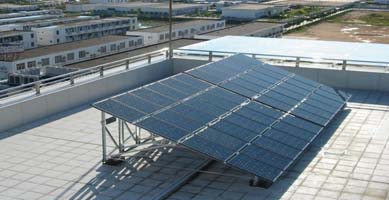 A business place or residence which has solar panels with this frame type can expect efficient energy output and considerable cost savings. A quality set of frames can last for a long time, without experiencing any damage.
Aluminum solar panel frames are used in combination with aluminum mounting brackets to provide adequate support to solar panels. In order to firmly fixate a panel in place, the right sized frame is needed. Most of the solar panel frames we provide are made from anodized aluminum due to the strength, durability, and resistance of the material.
Reasons for choosing anodized aluminum as the ideal material for the solar panel frames:
Anodized aluminum is a non-conductive material which causes no interruptions in the normal functioning of solar panels. It has a high level of tensile strength to resist winds, snow, and other natural elements.

This form of aluminum, compared to regular aluminum is not adversely affected by scorching temperatures. Therefore, they do not bend under continual exposure from the hot sun.

Anodized aluminum solar frame panels do not rust even in wet and considerably damp conditions. The material is highly resistant to environmental corrosive factors.

This frame type can prove quite essential in protecting a solar panel's components from lightning damage.

Transporting and mounting solar panels becomes easier with an anodized aluminum frame covering.

The solar Photovoltaic (PV) cells and EVA encapsulant layers of a solar panel setup are also supported by such frames.

Damage caused by dust, dirt, and pollution is also reduced with this frame type.
How to choose and install appropriate aluminum solar panel frames?
Opting for an anodized aluminum panel frame is the ideal decision, due to the reasons listed above.

A frame should be of a size that matches the overall size of a solar panel.

Installation should be performed while being careful of maintaining proper insulation, and in a manner that prevents short circuits.

A flat tapered edge frame will help in facilitating easy water flow out and preventing frost damage.

Choose frames from service providers who offer custom fabrication of aluminum profiles.

For aesthetic purposes, selecting frames that match (or are close) to the color of clips is recommended.
Use our manufacturing services for your project, get in touch today!
Send us an email at [email protected] or fill in the RFQ form to get a quote from us, we will get back to you in 24 hours!