Home / Products / Aluminum Heatsinks / Skived Heatsink
Skived Heatsink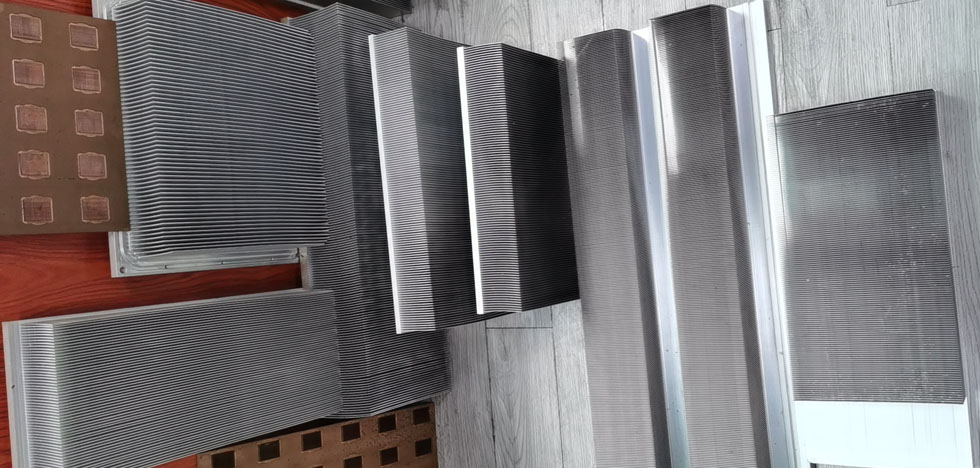 Skived heatsink, also known as skived fin heat sink, is to use skiving technology to shape fins one after one with a certain fin thickness, fin height and gap on an entire piece of metal material such as aluminum or copper block, and then cut the overall shape to get a custom heat sink. Skived heat sinks have obvious advantages that other types of heat sinks do not have. They can be customized with ultra-high-density fins, light weight, high heat dissipation efficiency, flexible shape and overall dimensions. They are widely used in many applications such as inverters, communication devices, electronic products, LED lights and so on.
Due to the limitation of the extrusion process, heatsink extrusions cannot achieve some special or critical requirements on dimensions such as extremely thin or high density fins. In order to fulfill the needs of our customers for different heatsinks and increase our product lines, our company has introduced skiving fin equipment, mainly producing some aluminum skived heat sinks.
The production of skived heatsinks requires mature fin skiving technology and large-scale skiving fin machines, it also requires experienced engineers to provide technical support and on-site operator testing, monitoring, inspection and calibration to avoid various problems, in this way quality heat sinks can be stably produced.
So what are the main manufacturing process features of the skived heatsinks?
The raw material of a skived heat sink is an entire metal block (aluminum or copper) and the finished heat sink is also integrated as one piece.
The commonly used raw material for aluminum skived fin heatsink is 1060 aluminum alloy, its good deformability well suits to the skiving fin process
The skived fin heat sink has the same fin thickness, fin height and spacing. These parameters can be adjusted according to actual needs.
The semi-finished skived heat sink is cut, deburred and further processed into the finished component.
The main dimensional parameters of the skived heat sink we produce are shown in the below table:
| Thickness of Base | Width of Fin | Height of Fin | Thickness of Fin | Gap of Fin | Length of Heatsink |
| --- | --- | --- | --- | --- | --- |
| 2 ~ 35mm | ‹ 550mm | ‹ 120mm | 0.15 ~ 2mm | 0.2 ~ 6mm | ‹ 2000mm |
Based on this special production process, skived heatsinks have some obvious advantages and disadvantages compared with heatsinks produced by other processes.
What are the main advantages of the skived heat sinks?
Since the skived heat sink is manufactured from an entire block, it does not have any connection points. So there is no loss of heat dissipation efficiency, which achieves high thermal performance and excellent heat dissipation performance. Moreover, there will be no loosening or falling off, which improves the reliability of the end product.

The skived fins can be made very thin and dense on a skived heatsink, obtaining the high aspect ratio that cannot be achieved by an extruded heatsink or bonded fin heatsink. In this way, the skived heatsink can dissipate heat more efficiently than other heat sinks of the same size or weight.
Because of the above characteristics, skived fin process can produce lighter heatsinks but with good performance in heat dissipation. They can be used in some devices that has restrictions on the weight.
Compared with other heat sinks, the heat sinks made with skiving fin process have fewer restrictions on the size, they can be produce in much larger sizes and more powerful in heat dissipation
The skived heat sinks do not require much investment in the mold, they can be custom made in different external dimensions with CNC and other processing methods.
The skived heatsinks also have some disadvantages as follows
Cutting and post-machining make the skived fin heat sinks require a more complicated production process than other heatsinks, they require more processing time. As a result, the cost of the skived heat sink is higher than that of heat sinks made with other process.
Production efficiency of skived heatsinks is low, so that large-volume orders often require a longer production period.
The fins of skived heatsinks is not as strong as other heatsink such as extruded heatsinks. This makes them unsuitable for applications that require good strength on the heatsinks.
If you are looking for a professional skived heat sink manufacturer, feel free to contact us. Our team will assist you in evaluation, design, manufacturing and provide you with the most competitive price.
Use our manufacturing services for your project, get in touch today!
Send us an email at [email protected] or fill in the RFQ form to get a quote from us, we will get back to you in 24 hours!