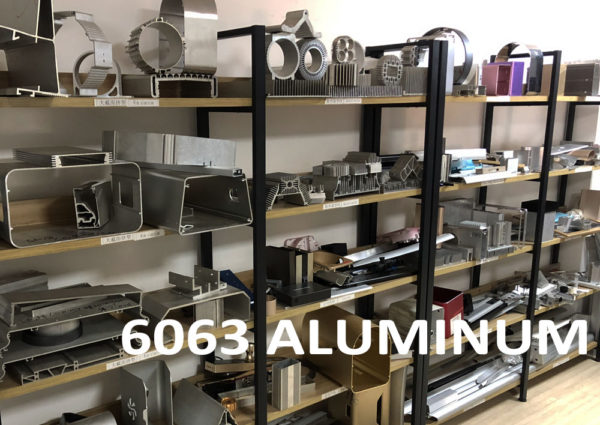 The 6000 alloys boast of moderately high strength and resistance to corrosion. They are heat treatable and readily welded. Their extrudability is one of the unique features that make them the first choice for structural and architectural projects where strength is of utmost importance. Among the alloys in the 6000 series, the heat-treatable aluminum-magnesium-silicon 6063 allow is highly sought-after and one of the most widely used. As a matter of fact, 6063 aluminum is the choicest alloy for the members of the Audi automotive space frame and a key in the all-aluminum Foresmo bridge erected recently in Norway.
6063 aluminum is used mostly in electrical conduits and components, extruded architectural shapes and structure pipe or tubes. This is mainly because this alloy is produced with very smooth surfaces, making anodizing it easier. Also, it is highly resistant to corrosion, especially stress-corrosion cracking. The alloy may lose some of its strength and soften at the connection, but its hardness and strength can be restored by an application of post-weld heat treatment.
6063 aluminum is available in a wide array of shapes and sizes including bar, tube, rod and square.
General Qualities of 6063 Aluminum
Good resistance to corrosion
Reasonably high tensile properties
Excellent finishing characteristics
Lightweight
Easily anodized
Hot and cold formed with good machinability
Superior formability
Easily welded by any of the traditional methods
Commonly available as T4 and T6 temper
Chemical Characteristics
As it is part of the 6000 series, silicon and magnesium are the major alloying elements of 6063 aluminum. Silicon helps to decrease the melting temperature of the metal, while magnesium enhances strength. Here, take a look at its chemical composition.
Chemical Element
Silicon: 0.2 to 0.6%; Magnesium: 0.45 to 0.90%; Copper: 0.1%; Iron: 0.35%; Chromium: 0.1%; Manganese: 0.1%; Titanium: 0.0 to 0.1%; Zinc: 0.1%; Other chemical elements: 0.5% each

6063 Physical Properties & Its Values
Melting point: 600°C
Density: 2700 kg/m3
Electrical resistivity: 0.035x10-6 Ω.m
Modulus of elasticity: 69.5 GPa
Thermal expansion: 23.5 x 10-6 /K
Thermal conductivity: 200 W/m.K

Mechanical Attributes
Elongation: 12
Yield 0.2% offset ksi: 70
Tensile strength ksi: 130

Temper Designations for 6063 Alloy
The mechanical properties of the 6063 alloy vary greatly as per the as per the heat treatment or temper of the material. The alloy comes in standard, as well as, special tempers designed for unique applications.
T6: Artificially aged and solution heat-treated. Has a tensile strength of 190 MPa
F: There are no mechanical property limits and no special control over thermal conditions
T4: Aged naturally and solution heat-treated
T1: Naturally aged and cooled from a temperature shaping process that is elevated. 120 MPa is its ultimate tensile strength
T5 and T52: Aged artificially and cooled from a process of elevated temperature shaping
6063 aluminum is also produced in tempers of T54, T53, T55 and T832 with a number of desired and enhanced properties.
Common Applications and Uses
Aluminum 6063 finds its use in a number of industrial and commercial applications like, architectural & building applications, electrical components & conduit, pipe railings, windows & door frames, furniture, road & railroad transportation, tubes for irrigation systems and extreme sports equipment. Some more specific applications are given below.
6063 plate coil is used in packaging, decoration, transportation, construction, aviation, electronics, weapons, aerospace and such other industries.
This alloy is heavily used in the transportation industry in subway, car, high-speed passenger vehicles, car doors & windows, automobile engine parts, railway passenger care body structure, shelves, air conditioner, panels, radiator, ship material and wheel hub.
Materials made of 6063 aluminum are widely used in aerospace in order to make the fuselage frame, airplane cover, rotor, girder, fuel tank, propeller, undercarriage pillar and wall plate. These materials are also used in the spacecraft wall plate and rocket forging ring.
6063 materials find its application in packaging aluminum cans in the form of foil and thin sheets, which are made into cover, cans, barrels, bottles and packaging foil. It is also used in food, beverage, medicine, cosmetics, industrial products, cigarettes and other packaging needs.
Owing to its sufficient strength, a high degree of corrosion resistance and good welding & process performance, 6063 alloy is used widely in building structure like, ceiling, doors and windows, decorative surface and so on.
It is even used in the printing industry, particularly for PS version. The PS version is a new kind of material for automatic printing and plate making.
This alloy is also used in electronic appliances that are used mainly in various overhead lines, bus lines, electrical components, conductors, air conditioners, refrigerators, cable and so on.
Benefits of 6063 Aluminum
Cost-effective: This aluminum is cheaper than other grades of aluminum. It has the strength needed to make any construction project long-lasting and robust.
Versatile: It is extremely versatile and can be used to create complex products and intricate designs. The alloy can be easily welded and shaped, and this is one of the many reasons why it is in such high demand.
Safe for the environment: Compared to other materials, 6063 alloy exerts the least impact on the environment. The alloy is safer to produce and makes for the perfect raw material for constructing home fences and other such types of private fences.
Easy maintenance: Products made of 6063 aluminum are easy to maintain. They are not easily damaged by elements of the environment. Also, they are resistant to bending, particularly if the correct thickness has been used for the application.
6063 aluminum is the most preferred choice for extrusion. Thanks to its high corrosion resistance, extrudability and ability to form into any shape, it has a wide commercial, as well as, industrial applications. For your specific project requirements, you can request manufacturers a customized solution.